Mass Flow Controllers for Inert Gases
Vacuum(to 300 torr) and Pressure Applications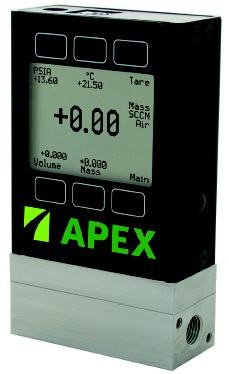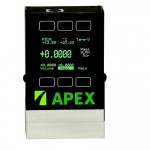 Can Your Mass Flow Meter Measure 98 Different Gases? We Can!
Apex Mass Flow Meters for vacuum and non-vacuum applications combine flexibility with great accuracy. Flexibility to choose from a list of 98 or more on-board gases, to choose your input and output voltage and the ability to use RS232 communications. The ability to control up to 26 Apex devices through one RS232 port, provides your set-up the ultimate in flexibility.
What Makes us Different?
98 or more On-Board Interchangeable Gases

Addressable RS-232 Digital Control Capability

FlowVision Computer Control/GraphingSsoftware

Pinpoint Accuracy of 0.2% Full Scale plus 0.8% Direct Reading

High Accuracy Calibration Option 0.4% FS plus 0.4% Reading

200 to 1 Turndown Ration from Full Scale Flow

Flow Ranges from 2000 SLPM to 0.5 SCCM

For end users, no power supply/display boxes needed

RS-232 with software available

High Tech, Low Cost
Options for Apex Mass Flow Meters
High Accuracy Calibration available
Remote Display Options
ATEX designs available on request
Secondary outputs available
4-20 mAmp control available
Battery Powered Unit
Applications
Vacuum Evaporation Coating

Vacuum Sputtering

Ion-Beam Deposition

E-Beam Coating Systems

Gas Mixing

High Temperature Furnace Gas Control

Membrane Testing

Fuel Cell Research

Environmental Air Sampling

Research Applications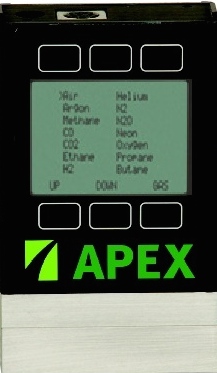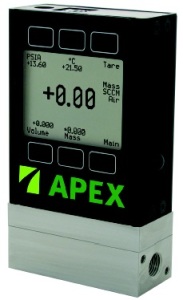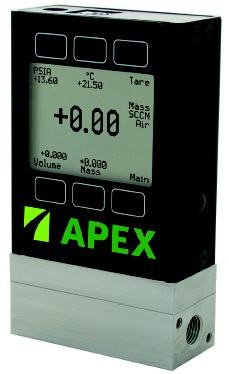 Apex Mass Flow Meters for Low Pressure Drop
Low Pressure Drop Mass Flow Meter For applications that require low pressure drops across the mass flow controller. Full-scale pressure drops as low as 0.06 PSID.